By taking action you are joining efforts that span from boardrooms, to living rooms, to business schools, and union halls;
individuals and communities using the film to reimagine business and recreate practices within their organizations.
To help you get started, below are resources for: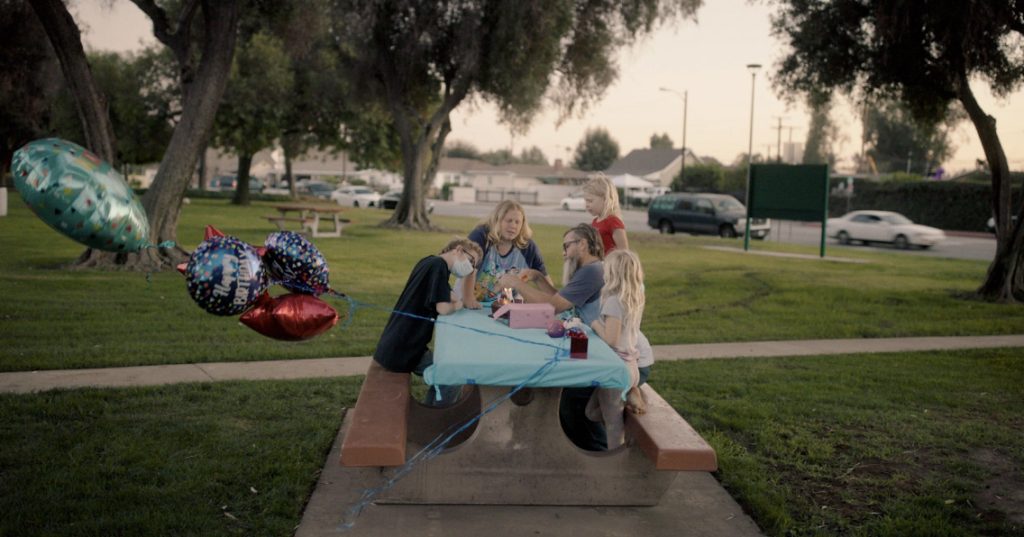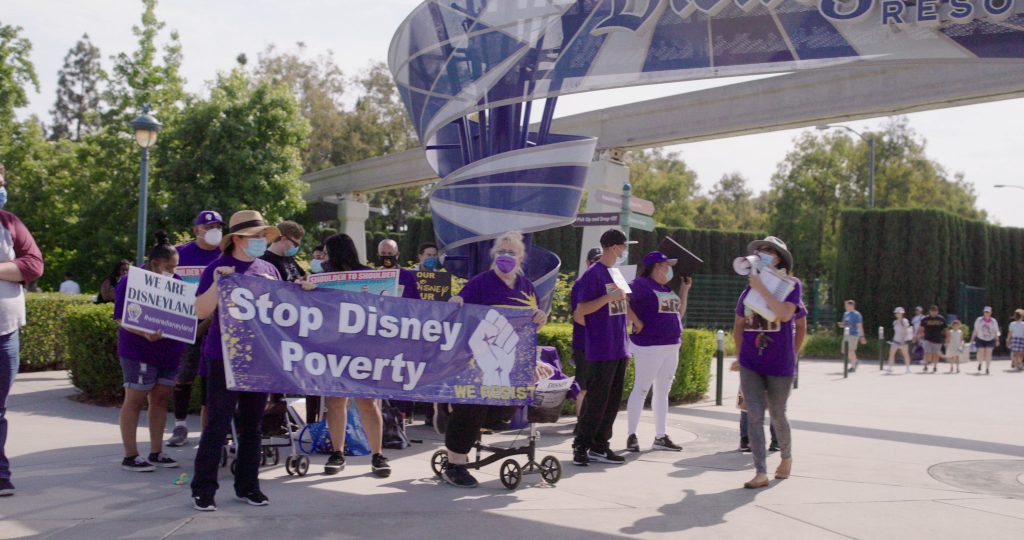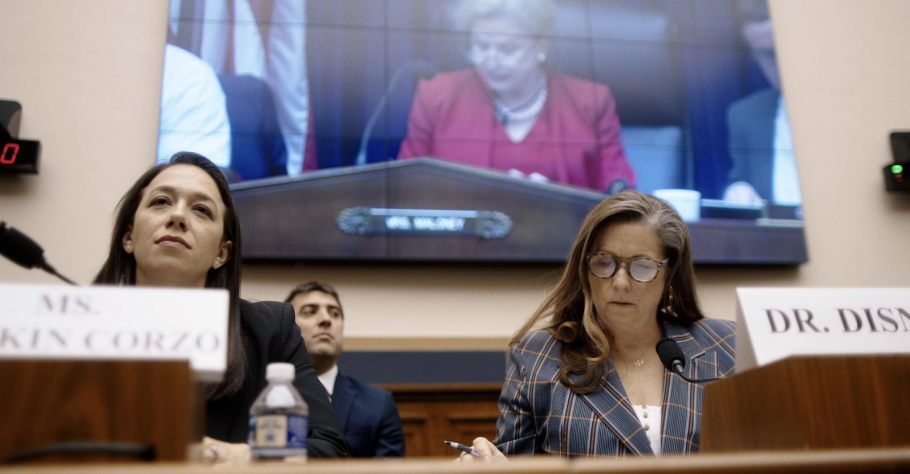 People working full time are sleeping in their cars, while C.E.O. command jaw-dropping compensation.
After Abigail Disney (the film's Co-Director), whose grandfather helped found the Walt Disney Company, met with Disneyland workers who were campaigning for a living wage. What she learned blew her mind.
People working full time at "the happiest place on earth" were sleeping in their cars and foregoing food and basic medical care. The cognitive dissonance between the public image of the beloved Disney Company and the reality of its workers' circumstances was dramatic. For Abigail it was very personal, and she realized she could narrate a story about her family and the family business to tell a bigger story.
Abby's cherished grandfather was C.E.O. of Disney when she was a child. She believes he would be shocked to see how today's C.E.O.s treat their workers while commanding jaw-dropping compensation:
In 1978, the average C.E.O. made about 30 times a typical worker's salary (Source: CNBC). Since then, C.E.O. pay has grown by 937%, while the pay of an average worker has grown just 11.2%.
In 2018 when we started making this film, Disney's then C.E.O. Bob Iger took home $65 million – 1,424 times the median pay of a Disney worker.
Abby understood that when you talk about Disney, people listen with different ears. Disney has an emotional, even a moral resonance with millions of Americans. We're hoping the documentary raises as many questions as it answers. Abigail often says, "I want my films to be question marks, not exclamation points."
HOW DID WE GET HERE?
Wealth inequality is not like the weather, it is man-made.
The economy is often thought of as beyond control, as a force of nature like the weather. However, this is not the case. As illustrated in the film, a shift in socioeconomic policy, fueled by the economic philosophy of Milton Friedman, gave rise to systemic changes that devalued the labor of working people and gave rise to policies that enabled the extreme wealth inequality we see today. In other words, people created the system–and people can fix it so that–not just the wealthy–but all hard working people can share in the American Dream.
IS THIS JUST ABOUT DISNEY?
This isn't just a Disney problem, it's ubiquitous.
The film presents Disney as a case study, but makes clear that this is a systemic corporate issue. Corporations in the U.S. with C.E.O.'s/C-suite executives that make an unreasonable amount of compensation are ubiquitous. In 2021 CEO average pay was 324 times higher than employees (Source: The Hill). To be most impactful, the film's campaign must go beyond Disney.
Watch and share conversations hosted by Abigail Disney with workers, business leaders, and beyond, that reimagine business.
The first conversation in the series was held in December 2022, and featured Abigail's conversation with Jorge Fontanez (Lead Executive, B Lab U.S. & Canada) and Susan "Sam" Miller (Former Disneyland Cast Member and Film Participant).
Additional conversations in the series will be coming soon! Join our newsletter below to get notified!
Host a screening

of the film for your colleagues/team

Spread the word

about the film

Join a labor union

Start a labor union

Know your rights

Look at the Department of Labor website for your state

Find answers to common questions

here

(like "What is a union? …an organization formed by workers who join together and use their strength to have a voice in their workplace.") 
BUSINESSES & CORPORATIONS
SHAREHOLDERS & GOVERNANCE
The Shareholder Commons

– Creating a business environment where any company can authentically prioritize our planet and the people who live on it, we must find a way to deploy private capital in a manner that prioritizes vital environmental and social system over individual company profits, while preserving the critical pricing function of free markets.

Interfaith Center on Corporate Responsibility

– Shareholders calling the world's most powerful companies to address their impacts on people and planet.
Patriotic Millionaires

– Join a group of high-net worth Americans who share a profound concern about the destabilizing level of inequality in America.
Want to share your story/reflections from the film with us! Contact us at ​​

[email protected]
Learn
Oxfam's Best and Worst States to Work in America 2022 Report

–

Each year, the Best States to Work Index ranks the US states on compensation and conditions for workers.

The

50-100 Pay Gap

examines the crisis of income inequality in the U.S. The series will portray the human impact of this enormous income gap, investigate the forces that have perpetuated it and explore how to level the playing field.
Employee Ownership
National Center for Employee Ownership

– Get answers to common questions, like "What is employee ownership? Employee ownership is a term for any arrangement in which a company's employees own shares in their company or the right to the value of shares in their company.  Employee ownership is a broad concept that can take many forms, ranging from simple grants of shares to highly structured plans." 

Rutgers School of Management and Labor Relations'

Curriculum Library for Employee Ownership (CLEO)

. They offer free case studies, videos of employee owned companies, and policy reports. 

Project Equity

Project Equity is a national leader in the movement to harness employee ownership to maintain thriving local business communities, honor selling owners' legacies, and address income and wealth inequality. Project Equity works with partners across the U.S. to raise awareness about employee ownership as an exit strategy for business owners, and as an important approach for increasing employee engagement and wellbeing.
Support Workers
In California (where the film takes place):
Capital & Main

is an award-winning nonprofit publication that reports from California on the most pressing economic, environmental and social issues of our time. Working with top writers, editors and visual artists, they cover income inequality, climate change, the green economy, housing, health care, public education, immigration, race, and criminal justice. 

Los Angeles Association for a New Econony (LAANE)

has been a national leader in fighting for a Living Wage, and community benefit agreements and continues to advocate for policies and programs that benefit the unemployed, low-wage workers, low-income communities, BIPOC communities, and the environment. 

Activists
Netroots Nation

is a non-profit organization that provides trainings, resources and connection opportunities to help progressive activists create a more progressive and just world. Since 2006, Netroots Nation has hosted the largest annual conference for progressives, drawing up to 4,000 attendees from around the country and beyond.
Contact Your Representative